How to bathe your dog or cat yourself?
How to bathe your dog or cat yourself?
More and more often, we pay attention to whether a dog or cat has clean, well-maintained hair and healthy skin, especially if the cat is in daily contact with kids. How to maintain proper hygiene of pets? Bathe them regularly. It is worth knowing that during bathing, in addition to dirt, we remove unwanted microorganisms from dog or cat skin, which can cause various skin problems.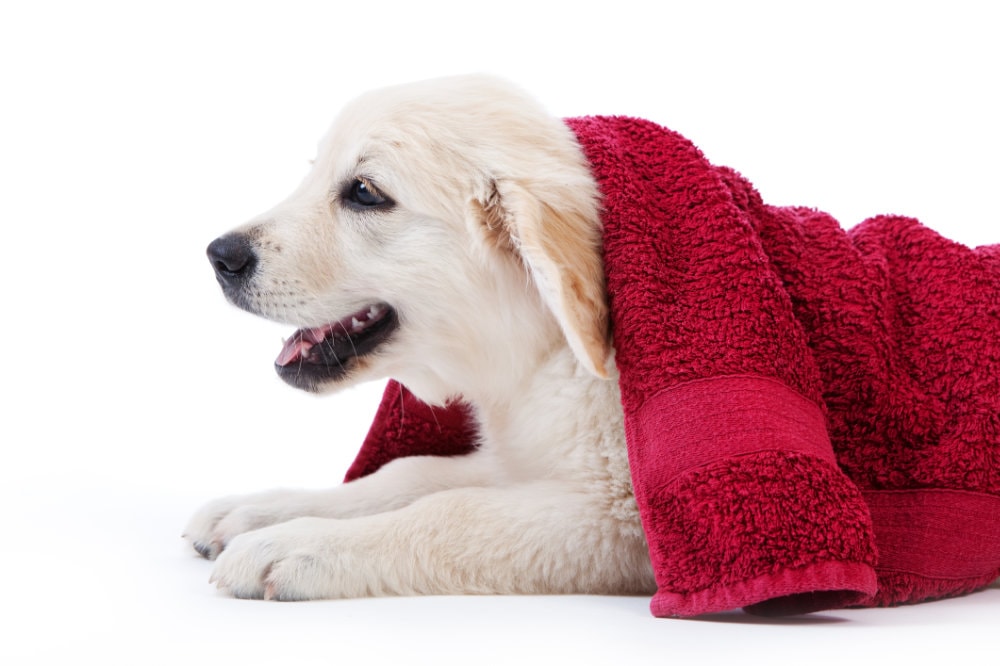 Appropriate preparation
It is best to bathe a dog after the last evening walk as he will not go outside for a few hours afterwards. At the bathing site, prepare everything you need: a shampoo, a large towel, a comb or a brush. Put a special anti-slip mat in the bath or another towel in order to prevent your dog from slipping as this may cause unnecessary stress. And just before the bath, we should carefully comb the animal out.
Step-by-step bathing
Start by moistening the coat with lukewarm water – from the back of the body to the front, taking into account the trunk and paws, but do not wet the head. Then dilute the shampoo with water in your hands and spread until foam is formed. Rinse and repeat shampooing. Rinse again, paying special attention to hard-to-reach areas (abdomen, groin). All shampoo remnants must be thoroughly washed with water. Throughout the bath, we should protect our pet's head, especially eyes, ears and muzzle. Next, you should carefully dry the dog hair with a towel and, in the case of those less fearful, use a hair dryer to dry the fur.
The earlier, the better
The first bath can be taken at the earliest when your puppy is 3 or 4 months old, preferably after vaccination. It depends on this bath if your dog will be happy to wash in the future, so it is worth making sure that he associates the treatment with pleasure.
Choosing the right cosmetics
Not all owners know that it is very important to use only cosmetics specially designed for pet bathing. Human cosmetics are not advisable because they are not adapted to the needs of the skin (different pH) and animal hair. This is especially important for puppies, for whom cleaning preparations should be extremely gentle. It is best to choose those products which have been known and valued in the zoological market for years. It is worth asking the employees of pet shops or veterinarians for a recommendation. Shampoos containing dyes that can cause irritation and allergies should be avoided. Some manufacturers also add fragrances to preparations that are attractive to humans but unacceptable to animals. Imagine how a dog must feel bathed in a citrus fragrance shampoo! This smell is used, e.g., in animal repellents.
Worth recommending
We recommend Dr. Seidl's shampoo series. These are specialist care products to be used in standard care of healthy skin and in the treatment of skin problems. These shampoos have the right pH for your pet's skin. They thoroughly clean and care for the skin and hair at the same time, as they contain renaturing agents, thanks to which they also contribute to the reconstruction of the skin barrier. They are therefore considered to be so safe for animals. They do not contain any dyes or fragrances. They are highly concentrated and therefore economical to use. They have enjoyed a good reputation for years and are recommended by veterinarians and pet shops staff.