Dr Seidel snacks MIX 2in1 beautiful coat & fresh breath
The first MIX for dogs on the market enriched with beneficial substances in quantities corresponding to diet supplements. Field horsetail and zinc improve the condition of skin and coat. Chlorophyll and Yucca neutralise unpleasant smell from the muzzle and reduce the intensity of smell of aminals and their faeces. Dr Seidel snacks are a perfect variety to every day diet as a healthy treat between meals. Pocket cookies can be distinguished by colour:
* green – with chlorophyll and Yucca
** brown – with horsetail and zinc.
Product for animals only. Store in a dry place at room temperature.
spray with chlorhexidine for dental care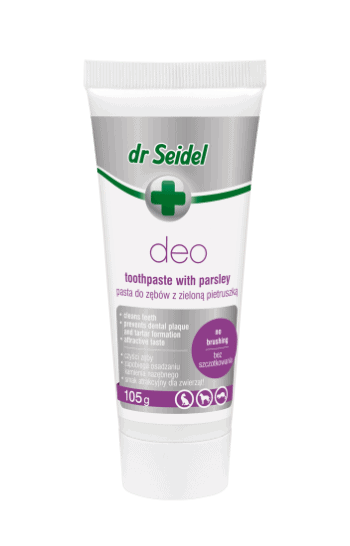 with green parsley extract
for a beautiful coat for dogs
for a fresh breath for dogs