Puppy's first bath
Puppy's first bath
There is no other inter-species friendship in the world as great as the one that unites man and dog. As a caregiver of a young four-legged creature, you should get acquainted with the basic rules of pet care. A small dog can be bathed from the first weeks of its life, but only if it was very neglected, e.g. taken away from the shelter. By using the right, gentle shampoo, you will get rid of dirt and unwanted microorganisms which can cause many skin problems. However, your puppy has a very weak, hard-to-rebuild, natural barrier to protect skin and hair so you should only bathe it when the situation requires it. A puppy that is healthy and well cared for should be bathed for the first time when it is about 3–4 months old, preferably after all necessary vaccinations.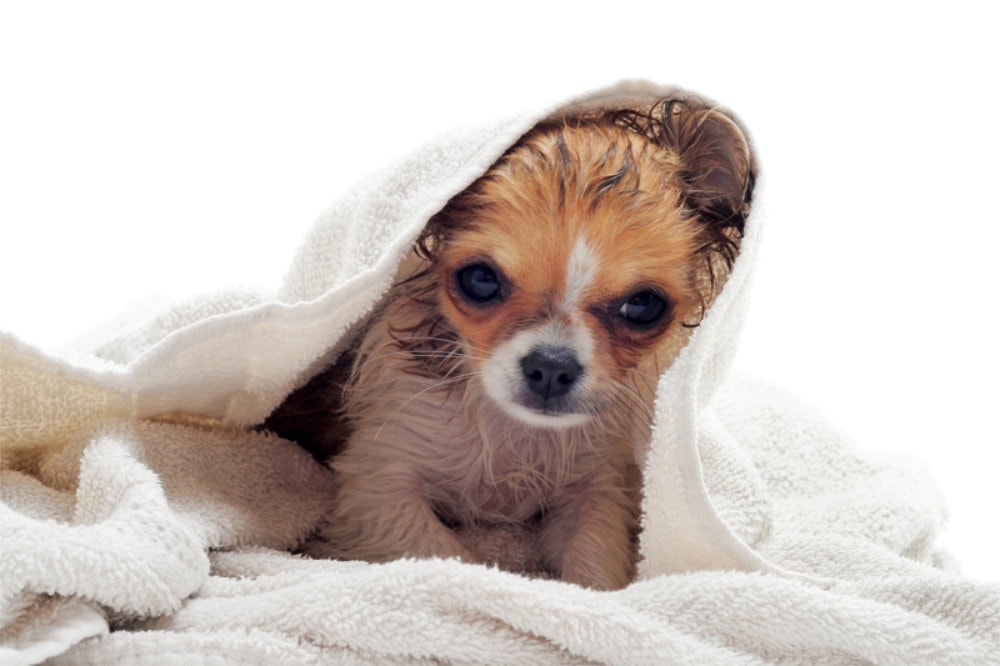 Choosing a shampoo for puppies
An important element of the bath of our your puppy is the choice of the right preparation. When choosing a dog shampoo, special attention should be paid to the smell of the shampoo. Remember that what works perfectly for people does not necessarily work in the care of pets. Fruit or citrus aroma is often irritating to dogs. A good choice is a fragrance-free shampoo which does not contain any dyes and which protects us from many allergies. If you want to use a fragrance preparation after all, choose the one containing lavender which according to research is well tolerated by pets. Puppy bath shampoo should, first of all, ensure the correct level of hydration of the animal skin, just as dr Seidel shampoo for puppies which also contains allantoin to rebuild protective barrier of the hair and make it soft and shiny.
What should a dog's bath look like?
The bath should take place after the last evening walk with our pet so that the dog does not go outside for the next few hours. Prepare all necessary accessories that you will use before bathing, such as puppy shampoo, towel, appropriate dog comb or brush. Do not forget to properly comb your dog's coat before washing. For the caretakers of long-haired dogs, we also suggest preparing a dryer.
You should put an anti-slip mat or a towel in the bath so that the dog does not slip. This could induce unnecessary stress and hurt its paws. The bath should be fast and efficient. Soak the dog in the direction from the back of the body to the front, with water at a temperature of about 37–39°C, without moistening the head. Be careful with ears when bathing as their specific structure makes it difficult for water to flow out of them. Dogs are not able to get rid of water from their auditory systems so the fluid can lead to inflammation. After the bath, wrap your dog in a towel, gently wipe and let it shake off freely from the water. The ideal complement to the dog bath will be a reward for the courageous attitude of our puppy in the form of a delicious treat, preferably one that strengthens its natural resistance – Treat for a healthy puppy. By doing so, you ensure that your puppy associates the care treatment with something pleasant.
How often do I bathe my dog?
Dogs living in the house should be bathed more often than those living in the backyard because of their intimate relationship with humans and the possibility of transmitting undesirable microorganisms to bedrooms. Backyard dogs should be bathed 1–2 times a year, preferably in summer, using shampoos intended for animals. An important criterion, first and foremost, is breed. There are some dogs like Yorkshire Terrier and Shih Tzu that require intensive care because of their human-hair-like coat, and there are breeds that only need to be bathed twice a year to clean the dirt from the skin. Everything depends on the breed, coat and the dog's manner of living. Taking care of your dog does not have to be difficult or tiring if you start developing the habit of bathing from the day of birth. The most important things are patience and a large dose of love which will make the dog feel safe with you.